About Jennifleurs Florist
Your Colchester Florist
Jennifleurs is a well established retail florist shop situated on the local shopping parade of the St Johns estate in Colchester. Jennifleurs has been selling flowers, plants, gifts and balloons and chocolates from its current location for over 25 years and under it's current owner Lesley Nash since 2003.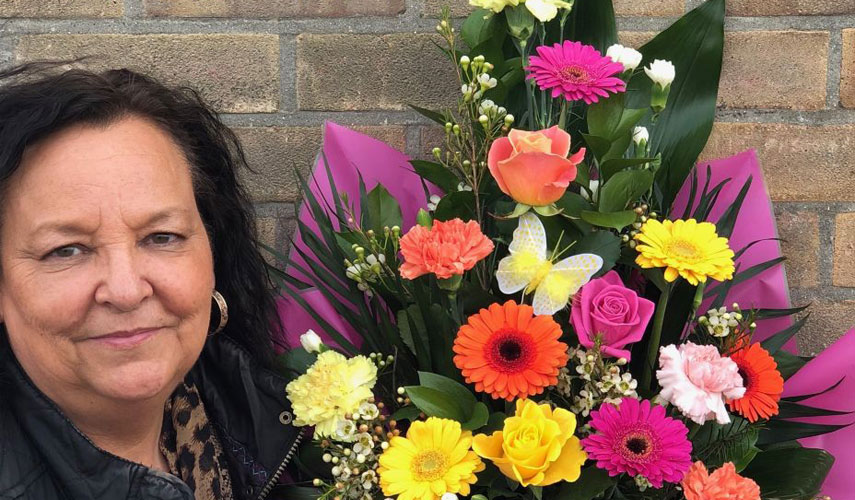 Lesley has been a Florist for over 30 years. Jennifleurs prides itself on offering it's customer a personal, local, quality, flower delivery service as well as being part of the community at St Johns. If you live locally in Colchester and you've never visited the St Christopher Road shopping parade it is well worth paying us a visit. We share the parade with a hair dressers, Lloyds and Barclays bank, a newsagents, a Tesco Express, an estate agent, a fish and chip shop, a pizza takeaway, a carpet shop, a dispensing chemist, a bookmakers and a fabulous Turkish barbers. Jennifleurs has ample on site free parking, a comfortable order-taking area and a friendly experienced team of staff members to help you with your flower purchase.
Jennifleurs is locally renowned for it's constantly available range of ready to go designs. Because we are a busy working florist we are able to have a fresh selection of hand tied bouquets and arrangements ready for you to take away. At Jennifleurs you can simple pull up in our free car park and select one of our flower displays off the shelf, most florists will require you to wait upwards of 20 minutes for a flower arrangement. If you have any special requirements you can phone and order ahead so we can have something special made to order ready and waiting for you. If you would prefer to have your flowers delivered Jennifleurs offers a daily hand delivery service throughout the Colchester and surrounding area. We have a standard £6.99 charge for most deliveries, where extra charges apply for remote areas we will contact you before processing your order further
Jennifleurs is always open 6 days a week (excluding public holidays). We are open Monday to Saturday from 8.30am to 5pm. We are very often at the shop from 8am and depending on our workload still around after 6pm. If you would like to visit us outside our regular trading hours please give us a call, we will be happy to oblige if we can.

About our team
Over time, we will be doing Facebook Live Videos introducing you to each of our Staff Members.
Below is our Introduction to Kathryn Woods, our very own 'Super-Florist'. She has been with us for nearly 25 years, and started as a work experience with us at the age of 15.

About our Flowers
We are very lucky at Jennifleurs to be so close to the port of Harwich. A vast majority of the flowers entering the UK come via ferry from the Dutch flower auctions through Harwich port. Being situated so close to the port means we receive our flowers at the freshest they can possibly be. We never display our cut flowers outside on the pavement as this means they are open to elements that could reduce their lasting quality. Flowers hate draughts or fluctuations in temperature and should never be displayed outside! Our flowers are sourced daily direct from Holland and stored in our temperature controlled cabinet, this ensures Jennifleurs customers always receive flowers at their best. Because we are a busy well established florist our flower stock turnover is rapid meaning we never have old or wilting stock. Every bloom you purchase from Jennifleurs comes with a 7 day guarantee. All we ask if you do experience any problems is to let us know immediately. We would far rather have the opportunity to deliver you something else than to lose you as a valuable customer.
You will see from our design list that we deliver flowers in and around Colchester for all occasion - Anniversary flowers, Birthday flowers, flowers for a new baby, flowers to say sorry, flowers to say I love you, flowers to express your sympathies or flowers just because you are thinking of a special someone. At Jennifleurs we are extremely proud of the fact that every single image shown on our website has been made by one of our florists at Jennifleurs. All our product images have been photographed at our shop premises and are not the result of fancy photography or studio enhancements. Whilst this may not afford us crystal clear photographs you can rest assured if you order flowers from Jennifleurs Florist Colchester the item you receive will actually resemble the picture shown. Many flower buying facilities, including the well known names like Interflora, enhance their product images to make them look much larger or contain more flowers than they really do meaning you could end up being very disappointed with your purchase. Always insist on seeing examples of a florists own work before making a purchase and rather than dealing with a middleman like Interflora or Eflorist who deduct a commission before either sending your flowers by post or passing your order on to a florist second hand, always make your flower purchase directly with a real florist like ourselves.

About our Special Funeral Tributes
You will notice from our gallery of special funeral tributes that this is an area we particularly specialise in. I hope you will agree that our bespoke floral tributes are far superior to most.